I cannot stress enough how important it is to build trust on your website. Have you ever heard a horror story of someone having a terrible experience with a freelancer who disappeared on them? Or maybe you've seen those (slightly hilarious) photos of what someone thought they were buying online vs. what actually came in the mail.
Either way, I'm sure you know by now that deciding to buy something from an online business requires some 007 investigative skills.
What it comes down to is this- Your website viewers are looking for clues to tell them you are a trustworthy and legitimate business.
Here are 5 strategies that will help you build trust on your website:
1. Show your face
People want to know you're a real human! It's hard to trust someone you've never seen before. You can add a photo of your smiling face or maybe a behind the scenes photo of you working.
I recommend including a picture of you on your homepage (read How to Make Your Homepage More Compelling) but even if it's only a single photo on your about page, being able to put a face to the name will help put your viewers at ease.
2. Share testimonials and reviews
I've said it before and I'll say it again; It's one thing to say you can do something, it's another thing to have other people say you can do it.
Ever heard the term "social proof?" What other people say about a brand matters! We tend to trust testimonials and reviews because the reviewers have an experience with the product or brand that we do not have.
3. Include pictures of your work
Let's build on the idea of establishing social proof. Your website should have a designated section where viewers can browse pictures of your client work. If your business is e-commerce based, include some photos of real customers using your products. Consumers want to see what you can do, and they want to see what it looks like when in real life.
If your work is not something visual, maybe you can share logos or photos of people you have worked with before along with any results/ benefits they gained from working with you.
4. Consider showing your prices
This controversial topic is for my fellow online service providers. Some people feel very strongly that you shouldn't share your prices and should send custom quotes to every inquiry. But, I really think you should at least share a starting price for your services.
Showing your prices is quickly becoming industry standard for a reason. One of the many perks is that it helps establish trust with your viewer. It makes you look like a you have a structured, legitimate process with intentional pricing. It also puts your viewer at ease because there are no surprises; They will know what to expect even before they contact you.
5. Make sure you look professional
Your website is essentially your storefront. Imagine you're faced with two home goods stores. For arguments sake, let's say the products are pretty close to equal in price and quality. But, one store has a window that is so beautifully designed it makes you dream of having such a beautiful space of your own. The other store looks cute enough, but is designed at about the same level that you could DIY in your own home. Which store would you walk into?
Your viewer is interested in hiring a professional because they want professional quality work. An obviously DIY website subconsciously makes your viewer think you will do a DIY quality job for them too.
To build trust with your website, you have to make sure you look like the professional boss you actually are.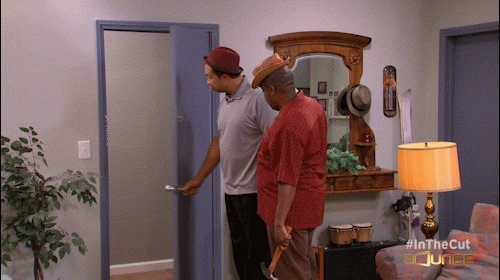 If you do these 5 things, your website will show your credibility and set the foundation for building trust with your audience.
Just be sure that in addition to all of these things you're always leading your business according to your integrity and brand values. Because if you're not, your viewers are going to see right through it.